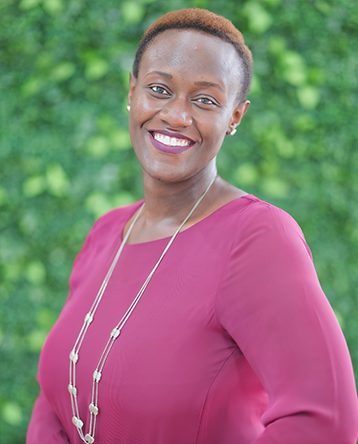 Maria Mayanja is the Entrepreneurship Program Manager at Carnegie Mellon University Africa. Through the Industry Innovation Lab (IIL), Mayanja supports CMU-Africa students and alumni to accelerate the launch of their companies, develop their products, and grow their technology business ventures. She manages the day-to-day operations of the university's incubator and the application and selection process of entrepreneurs. She connects entrepreneurs with resources, advisors, and mentors and advises entrepreneurs in the process of developing their businesses.
Mayanja has been working with Carnegie Mellon University Africa since 2016. Initially, she was the institution's Marketing and Recruitment Officer and was responsible for outreach to potential applicants across Africa, supporting applicants to complete the admission process, and overseeing the implementation of CMU-Africa's communication strategy. In this role, she developed and executed a recruitment strategy that increased the number of applications to master's programs by over 10% every year.   
Prior to CMU-Africa, Mayanja co-founded an eco-brand which developed fashion accessories from non-biodegradable waste, as well as co-founding Impact Hub Kigali. Mayanja believes that quality education is fundamental to Africa's growth; she is convinced that equipping the youth with the knowledge and skills needed to solve Africa's biggest problems will result in the transformation of the continent's current socio-economic status. Through her work at CMU-Africa, Mayanja supports young people to pursue their dreams and make a tangible impact in the lives of others through education and entrepreneurship. 
While she is on a break from supporting dynamic entrepreneurs, you will find her reading books by African authors and listening to music.
Responsibilities:
IIL participants relationship management
IIL program selection coordination
Institutional entrepreneurship programming support