Your journey at CMU-Africa isn't just about getting a degree—it's about preparing you for your career and providing you with experiences and connections that will last a lifetime.
Student-led engagement
Life at CMU-Africa is driven by the interests of the students. You can take ownership of your experience through a number of initiatives on campus such as Toastmasters, Data Science Club or Facebook Developer Circle. You can also practice your entrepreneurship skills and start your own initiatives! Our Student Guild is a way for you to practice your leadership skills by being an advocate of the students to the university administration.
Professional development
The CMU-Africa experience extends well beyond the classroom. Students participate in leadership development, industry internships and practicums, and a suite of career services, including job search workshops and an annual career fair that facilitates formal engagement between prospective employers and students. We also have a Distinguished Lecture Series that brings in thought leaders to share their perspective on a variety of trending topics to complement your academic experience.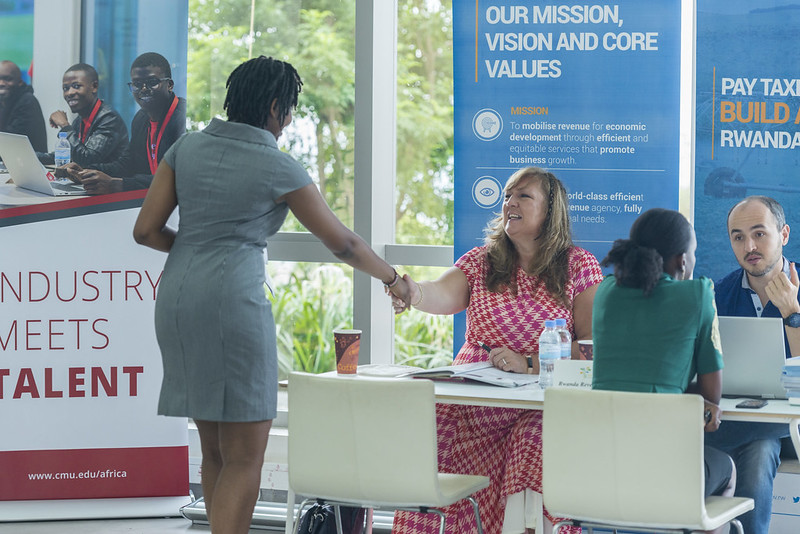 Diversity
CMU-Africa's student body is comprised of students from over fifteen countries. We celebrate the diversity of our community, and support the unique needs of our international population through initiatives such as the host family program.
Make an impact
CMU-Africa students get the opportunity to give back to the community in Kigali through different initiatives like umuganda every end of the month, outreach to high schools and other higher learning institutions among other activities.