MasterCard Foundation Scholars join fellow students to give back to local communities
Staff writer
Dec 5, 2016
On the last Saturday of the month, Rwanda has its national Umuganda day, a day in which all Rwandans join their neighbours to improve their community by planting trees, building communal spaces, and cleaning their neighborhoods. On Saturday, October 29th, CMU Rwanda students got into the community spirit and helped dig a drain for residents in Kimihurura, a neighborhood in Kigali. The drain will facilitate with the passage of rain water, especially during the current heavy rainy season.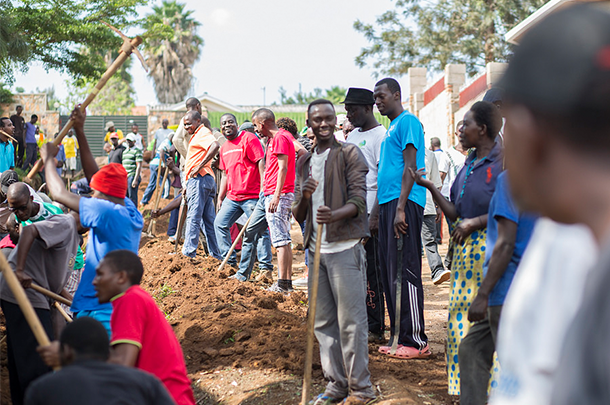 "I'm really impressed with the work the people are doing, and [with] the government leaders because everybody is doing it. I think if Ghanaians learn and adopt this practice, it's going to be a big thing in my country. Cheers Rwandese!" said Samantha Naa Adjorkor Tetteh, a Scholar from Ghana.
The students supported community members and used their muscle and determination to help dig the ditch.
Sylvia Makario, a Scholar from Kenya, said, "We don't have something like this in Kenya, but this idea of bringing together the whole community to better the community so we can move forward is really important; it creates unity and also teaches people to.help each other as they work on improving their country, which is a really great aspect of humanity. It is very impactful!"
A significant part of being a MasterCard Foundation Scholar is giving back to the community, and participating in Umuganda is an important way to contribute to the country. The enthusiasm of The MasterCard Foundation Scholars from outside Rwanda will hopefully result in Umuganda being adopted in countries around the continent.