Fund launched in honor of late alumnus and faculty member
The Jeremiah N. Mpagazehe Rising Researcher Fund will be annually awarded to one graduating student
Staff writer
Apr 5, 2017
Carnegie Mellon University Africa (CMU-Africa) has launched a fund in honor of late alumnus and faculty member Dr. Jeremiah N. Mpagazehe. The Jeremiah N. Mpagazehe Rising Researcher Fund will annually provide a monetary award to a deserving graduating student at CMU-Africa who has demonstrated exceptional leadership and scholarship through their research contributions and entrepreneurial activity. "We are delighted to have this new fund to recognize students at CMU-Africa who are developing promising innovative technologies," said Bruce Krogh, Director of CMU-Africa in Rwanda. 
Once described by his Ph.D. advisor as "the most sophisticated and innovative researcher, teacher, and mentor among his peer group," Dr. Jeremiah Mpagazehe earned his B.S., M.S. and Ph.D. degrees all in mechanical engineering at Carnegie Mellon University. After completing his Ph.D. in 2013, he continued at Carnegie Mellon as a project scientist working to commercialize technology from his Ph.D. research for sustainable energy production.
Whomever receives this award will be honored by being associated with Jeremiah's legacy.

James H. Garrett Jr., Dean, College of Engineering, Carnegie Mellon University
Jeremiah's heritage from his father Charles Mpagazehe, who had come to the U.S. from Uganda to study at MIT, gave him a keen interest in research and teaching in Africa. He came to CMU-Africa as a scholar-in-residence in January 2016, but his life, full of tremendous passion and purpose, was cut short at the age of 31 on January 18, 2016. In the very brief time he was at CMU-Africa, Jeremiah earned the profound respect and admiration of the students, faculty and staff.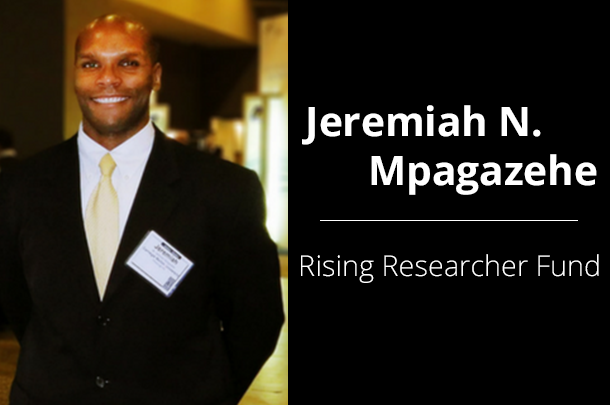 "Jeremiah epitomized everything we cherish and respect at Carnegie Mellon. He was intelligent, passionate, and driven to do everything he undertook with excellence. He was also a very caring individual. Whomever receives this award will be honored by being associated with Jeremiah's legacy," said Jim Garrett, Dean of Carnegie Mellon's College of Engineering.
One of the fund's inaugural donors, Crystal Rugege, who is a Carnegie Mellon alumna (HNZ'08) and the Director of Business Strategy and Operations at CMU-Africa expressed, "The CMU-Africa community was deeply affected by the passing of Jeremiah. This fund is established to honor his legacy of exemplary scholarship and research, and to empower a generation of African scholars who will improve the human condition through research and innovation. Jeremiah's enthusiasm for Africa was infectious, and I believe he would have made a significant research contribution towards Africa's advancement. My hope is that the recipients of the Rising Researcher Award will embody the values and ambitions of Jeremiah to carry his vision forward."
If you would like to support the students of CMU-Africa by contributing to this fund, give online or contact Andrea Ponce, Director of Development.