Rugege wins Inspirational Leadership award
Jan 25, 2018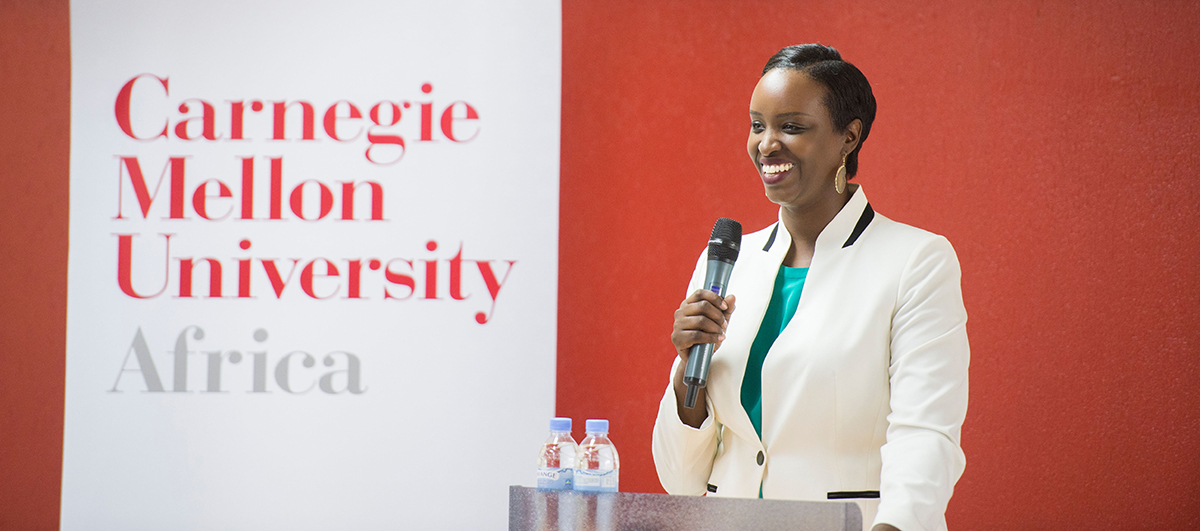 On Wednesday 24, January, CMU-Africa Director of Strategy and Operations, Crystal Rugege, received the Staff Recognition Award for Inspirational Leadership from Carnegie Mellon University's College of Engineering. Having joined Carnegie Mellon in 2009, Crystal played an instrumental role in establishing Carnegie Mellon's 1st degree-granting program in Africa, and driving the growth of CMU-Africa in Kigali. In her capacity, she has led the development of a number of scholarship programs, making CMU-Africa more accessible to Africa's brightest engineers.
The College of Engineering annually honors staff members for their leadership, innovation, continued excellence, and spirit. The Inspirational Leadership award recognizes an individual who inspires others. One who influences without authority, often putting the interests of others ahead of their own, and serves as a champion for staff.
Although I joined CMU-Africa only recently, I have watched with great admiration from Pittsburgh the growth of CMU-Africa, and I know that Crystal's leadership has been instrumental for this growth.

Vijayakumar Bhagavatula, Director, CMU-Africa
Rugege has fostered an atmosphere of collaboration and creativity, and has championed the traits of integrity, inclusion, and sensitivity to the needs of the students, faculty and staff. This is evident in the different initiatives she's taken on as the primary point of contact with the government and several organizations in Rwanda, and also as the principal liaison with the Pittsburgh campus.
On receiving the award, Rugege said, "I am beyond humbled to receive such an honor. The tremendous dedication of my colleagues inspires me to work harder everyday to provide the best possible experience for our students and alumni. May we all remain committed to excellence, and inspire one another to realize the full potential of CMU-Africa."