Meet our new director: Vijayakumar Bhagavatula
Jan 30, 2018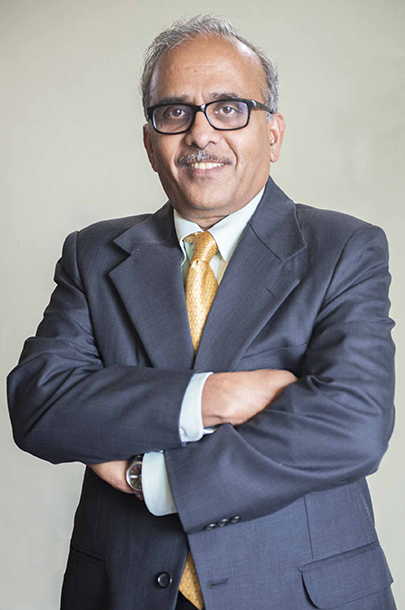 What are your first impressions of CMU-Africa?
​The first thing that caught my attention is how genuinely friendly everyone is. Several students have come to me and introduced themselves. Also, I am highly impressed by the dedication I see in our faculty and staff to put our students in the best position to succeed in our rigorous degree programs.​ Another quick observation is that the students here seem to be well engaged in the various events.
As the new director, what aspects of your role are you most excited about?
As I have said before, Prof. Bruce Krogh and his team have done an outstanding job to bring CMU-Africa program from its infancy to its current level. I am looking forward to working with the CMU-Africa community during the next phase, particularly as we move into our new facilities. I am excited about pursuing opportunities to enhance CMU-Africa brand in order to attract top students and faculty and to create attractive internship and employment opportunities for our students. I am also hoping to participate in teaching as it will be a great opportunity to closely interact with students.
What does being named a fellow of the National Academy of Inventors mean to you, and CMU-Africa as director?
I am humbled and honored by being named as a fellow of the National Academy of Inventors (NAI). It is a recognition of our inventions  from a highly respected panel and in that sense, it is very gratifying. But in other ways, it won't change much the way I and my students have carried out research over the years. As always, we perform research to address interesting and important problems and some of that research leads to inventions and occasionally to patents. I am hoping that my being named a fellow of the NAI will inspire some of our students to pursue their research interests and create inventions and perhaps one day receive an honor like this.
Looking back, what can you say were the milestones that led to this achievement?
I don't think that I can pinpoint one or two milestones that led to this recognition. This is a recognition of nearly forty years of research, most of which involved highly motivated and creative students. However, if I had to pick a few milestones, I would suggest two. First was in 1987 when I, Abhijit Mahalanobis (currently with Lockheed Martin in USA) and our former advisor late Prof. David Casasent introduced frequency-domain object recognition methods (called correlation filters) that proved to be very effective at recognizing objects in images. The second major milestone (in early 2000's) was the application of these correlation filters for biometric recognition, i.e., identifying people from their face images, iris images, etc.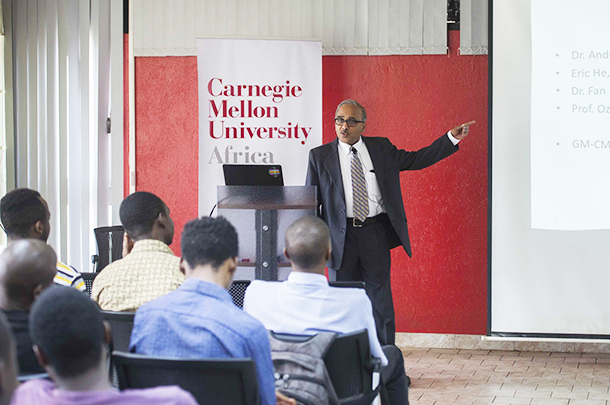 What areas of research are you currently engaged in and where do you see research at CMU-Africa growing in the future?
My current research is mostly in the application of computer vision and machine learning  methods for analyzing images and videos for self driving and also for biometric recognition. Until recently, I have also worked in the application of error correction codes and signal processing methods for data storage systems such as hard disk drives, though currently am not working with any students in that area. At CMU-Africa, I can see us improving our research efforts in several areas including data science, energy, cybersecurity, mobile systems, networks, information and communication technologies. In particular,  research at CMU-Africa will be focused more on applying modern technologies to African challenges.
What do you foresee as challenges/opportunities in Africa in the next 5 - 10 years and how can CMU-Africa play a role in addressing them?
Over the next few months, I plan to pick the brains of our faculty and students as well as others to learn more about challenges and opportunities in Africa. However, it is well known that Africa has the youngest population in the world which means that there is a great potential for Africa to be the place for many future innovations. For this to become reality, it is important that there are well-trained professionals in all sectors including information and communication technology, healthcare technology, financial technologies, education and others. CMU-Africa can and will play an important role by focusing on educating African students and enabling them to apply modern technologies to solve African problems.