2018 International Women's Day Kigali
Staff writer
Apr 23, 2018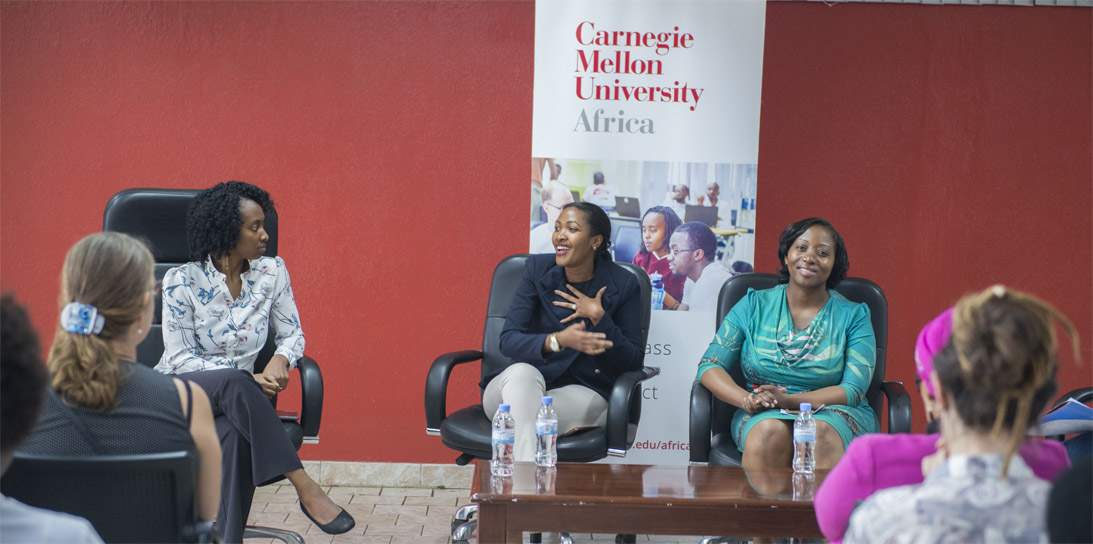 Carnegie Mellon University Africa (CMU-Africa) is no stranger to women empowerment and excellence; hence it's no wonder it hosted the first Women Techmakers event in Kigali on 21st April 2018. The event is part of a series of worldwide Google Women Techmakers Summits, from Los Angeles to Sydney. This edition drew an audience from all over Kigali including students from the African Institute for Mathematical Sciences (AIMS), African Leadership University (ALU) and Kepler University. The event exhibited efforts of leading women in science, technology, engineering and mathematics (STEM).
CMU-Africa's Director of Strategy and Operations, Crystal Rugege delivered an eye-opening keynote speech on her journey since joining the institution, and gave insight on the rationale used when it came to changing careers. A software engineer by training, she is now driving the strategy for one of the most innovative public-private partnerships impacting technology education in Africa. She highlighted the importance of broadening the scope of what it means to be a woman in STEM, and that it should not only be defined by those in technical roles. She emphasized that women in STEM must engage in the whole value chain to influence policy and drive decision-making that can impact society at a larger scale.  
I accepted this role because I knew it would have an impact in developing technical skills in this region.

Crystal Rugege, Director of Strategy and Operations, Carnegie Mellon University Africa
Following the keynote, there was a panel session with Merab Twahirwa (MSIT'14), IT Digital Projects Manager at Banque Popularie du Rwanda, Josephine Nyiranzeyimana (MSIT'14), Government Chief Information Officer at Rwanda Information Society Authority, and Clarisse Iribagiza, Co-founder of DMM.HeHe. The panelists emphasized the importance of lifelong learning, as this is a continuous process that doesn't die upon receiving a degree.
They shared their life lessons on partnerships, career changes, and even how they recovered from mistakes. They challenged the audience to become more proactive in order to grasp more opportunities that would allow for career growth.
The event included two parallel sessions, where participants took part in technical and non-technical workshops. The technical workshop, entitled Android Things, taught participants about a Google-powered platform for embedded system design and Internet of Things (IoT).
The non-technical session, entitled Speechless, gave an insight on how to network and interact professionally. To conclude the event, winners of the social media challenge were awarded with giveaways. The participants lauded the organizers of the event, and expressed strong interest in future events that allowed people with the same interests to grow and learn from one another.