Student philanthropy success
CMU-Africa students exceed crowdfunding campaign goal and achieve 100% student giving participation on Giving Tuesday
Staff Writer
Dec 13, 2018
On November 4, the students kicked off a crowdfunding campaign to support the Innovators Forward Fellowship Fund. Determined to pay it forward to support future students, CMU-Africa students came together to give access to a top-tier education. Student Guild members Huguette Sandrine Ingenere (MSIT '19), Daniel Togun (MSIT '19), and David Mawazo (MSIT '19) led the initiative. They recruited ambassadors, reached out to alumni, faculty, staff, and students, and joined the social media campaign.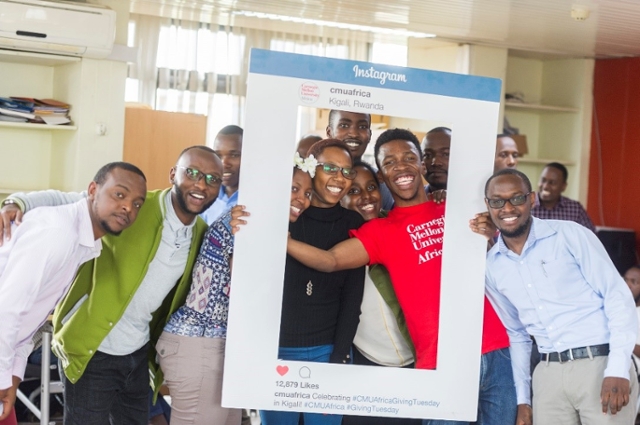 The students reached the initial goal of $5,000 in only eight days! They set a stretch goal of an additional $2,012 to celebrate when CMU-Africa began educating Africa's brightest engineers in 2012. Many people — CMU-Africa students, faculty, and staff; family and friends; and friends of the program — contributed to the success of the crowdfunding campaign. The campaign concluded on November 30 with a final total of $8,053.
The CMU-Africa students made another great effort on November 27 for #GivingCMUDay. Last year, the students reached 100 percent participation, and were determined to reach the same goal despite having a much larger student body this year. The class of 2020 reached 100 percent giving participation by the end of the day and the class of 2019 reached 99 percent. Together, the students raised an additional 925,500 Rwandan francs (approximately $1,040 USD) for the Innovators Forward Fellowship Fund.
Join the CMU-Africa students; support access to world-class education in Africa by making a gift today. Give to the Innovators Forward Fellowship Fund, either as a one-time gift or spread your impact by making a monthly contribution. Give online to invest in Africa's future tech leaders!