An engineer from a young age
Alumni spotlight: Agatha Niwomugizi
Monica Sumbi
Dec 7, 2021
From a young age, Agatha Niwomugizi (MS ECE '19) was interested in making and tinkering. Growing up, her two sisters constantly relied on her to fix broken appliances and electronics. "I didn't know what I was doing. I just fiddled with stuff, and it worked in the end," quips Niwomugizi.
With the childhood nickname of "engineer," Niwomugizi's journey from CMU-Africa to her career in software engineering seems meant to be.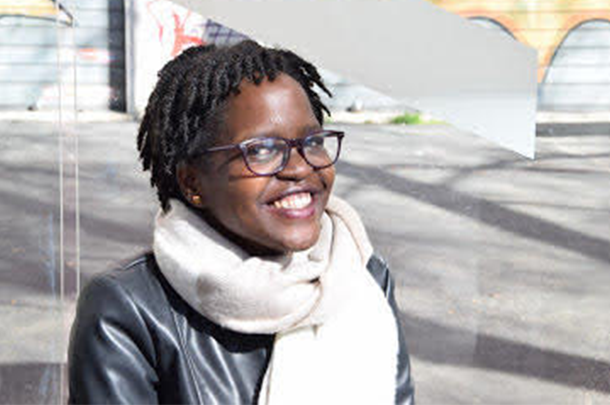 Niwomugizi attended Makerere University in Uganda, where she studied electrical and electronics engineering. After graduation, she began working as a data analyst with the construction equipment provider, Mantrac. Niwomugizi had considered pursuing a master's program to continue her education. But it wasn't until she heard about CMU-Africa from alumna and friend Viola Nuwaha (MSIT '18), that she knew she wanted to apply to the master of science in electrical and computer engineering (MS ECE) program.
"Violet would always talk about the amazing things she was doing at CMU-Africa, and I was sold," says Niwomugizi. "I quickly applied and was accepted into the MS ECE program."
Professional journey
During her time at CMU-Africa, Niwomugizi secured two internships, where she was able to apply her knowledge in machine learning and embedded engineering to practical, real-world problems. Her first internship was with a teletracking company at the Carnegie Mellon Pittsburgh campus. Her second internship was in Cape Town, South Africa focused on energy saving.
Niwomugizi also had the unique opportunity to travel with other CMU-Africa students to Leipzig, Germany to work at a German company specializing in internet of things (IOT) protocols.
"The company was very impressed that they did not have to teach us how to code. During my studies, I learned how to problem solve using MatLab, Python, JavaScript, C, Independent systems, assembly language and Linux Command tools."
Now, Niwomugizi is a software engineer at Amazon in Berlin, Germany and she has certainly lived up to her childhood nickname. Niwomugizi says that CMU-Africa equipped her with a necessary skill set for success in her profession — problem solving — which she learned through coding. "I had zero knowledge of coding prior to joining CMU-Africa. But it is not about the programming language that I learned, it's about problem solving. Thinking through a problem and solving it," says Niwomugizi.
CMU-Africa memories
Niwomugizi highlights what she calls "the meeting of African minds" as a fond memory of her time at CMU-Africa. The diversity of CMU-Africa had a big influence on her. She explains that learning about different cultures not only shaped her outlook of the continent but also informed her appreciation of what Africa has to offer.
Advice to CMU-Africa students
When asked what advice Niwomugizi has for CMU-Africa students, she says:
Make connections and build your network
Find excitement for the things you do: in learning data structures or embedded systems, and in your jobs after CMU. As the 44th USA President Barack Obama wrote in his book "A Promised Land," "Enthusiasm makes up for a host of deficiencies." I have found that even creating a fake enthusiasm for my duties found me enjoying them more and earned me even more opportunities and responsibilities.
Register for courses that will expand your knowledge; do not just focus on passing exams. Build on your bag of tools and learn as much as you can.