Embracing opportunities
CMU-Africa Mastercard Foundation Scholar: Ayobami Esther Olanrewaju
Lynn Shea
Mar 16, 2022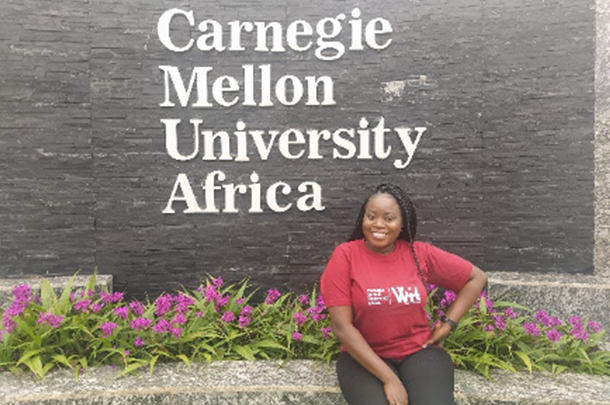 As a computer engineering student in Nigeria, Ayobami Esther Olanrewaju knew about Carnegie Mellon University's great reputation. But when her search for a graduate school led her to the Mastercard Foundation Scholars program, she got one of the best surprises of her life—Carnegie Mellon University was also located in Rwanda.
"I always wanted to go to CMU, and when I saw that students in Africa could take the same courses, I knew it was a perfect match. I immediately applied," said Ayobami.
She was surprised again when shortly after submitting her application, someone from CMU-Africa reached out to ask if she needed any help or more information.
"They are so wonderful! Everyone in this community cares about your progress and success."
The Mastercard Foundation Scholars Program, which was established in 2016, provides generous financial, social, and academic support for students whose talent and promise exceed their financial resources. Through partnerships with select universities, the foundation supports students who have exceptional academic records, leadership potential, a desire to give back to their community and a demonstrated commitment to transforming Africa.
The enthusiastic and ambitious Ayobami was an ideal candidate and has since proven to be a model Scholar. She will complete the Master of Science in Information Technology (MSIT) degree in May.
In addition to maintaining a nearly perfect GPA, she has conducted research, completed an internship, and devoted herself to helping others as an active member and leader of several student groups.
She served as the president of the CMU-Africa Women in Tech club, whose members work to encourage and engage young women in information and communications technology.  The club hosts an International Women's Day celebration, which they promote by sharing stories of African women who have had successful information technology careers.
She also served as the International Students Affairs Minister helping new CMU-Africa students adapt to the campus, make friends, get to know Rwanda, and share information with university leaders.
I love working with people.

Ayobami Esther Olanrewaju
Ayobami, who is expecting her first child just weeks before she graduates, understands the many challenges African students face and is eager to help them. Whether it's girls who are afraid to pursue the information technology field, young women who are unsure how they will balance career ambitions with their important family commitments, or new students who arrive in Kigali unfamiliar with the language and culture of their new home, they all benefit from her inspiration and encouragement.
"I love working with people," says Ayobami, who is grateful that the Mastercard Foundation Scholars program has given her so many opportunities to pass on her knowledge and mentor others.
Last fall, she and the other Mastercard Foundation Scholars at CMU-Africa organized and presented a two-day virtual Information and Communication Technology (ICT) bootcamp for more than 300 undergraduate students who want to improve their skills in python programming, data analytics, and Microsoft software.
Ayobami Olanrewaju worked as a teaching assistant—leading recitations, facilitating discussions, and holding weekly office hours for students in applied machine learning and data analytics courses.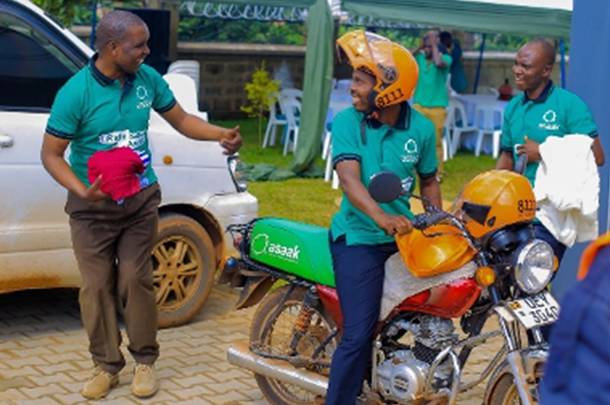 An internship with Assak, a Ugandan company that makes small loans to entrepreneurs and farmers, made good use of her data analytic skills and helps Africans who otherwise would not have access to capital they need to form or grow their business. Such programs will be a key to economic development on the continent.
Assak was initially formed to provide loans via mobile phones to boda boda (motorbike) drivers based on data, such as the number of trips completed on mobility apps like Uber. The company sought help from Ayobami to build models that could determine how to ensure the greatest likelihood of repayment when they expand their loan offerings to other types of entrepreneurs.
Ayobami is currently conducting an independent research project to determine the economic impact of COVID-19 on retail business in the US. She intends to use the findings to make recommendations for retail businesses in Africa to limit the adverse effects on retail in case of future pandemic occurence. 
She is very committed to work that is beneficial to Africa and she is particularly interested in applying data science to solving problems in African healthcare. Her goal is to earn a Ph.D., where she intends to apply her data analytics and research skills to solve health problems as it directly affects humans and their well-being.
Her hard work has given her many opportunities, and she is grateful that she will be able to pursue research that can prevent and reduce disease outbreaks, improve clinal practices, and save lives.