A culture built upon diversity
A look back at six years of the Mastercard Foundation Scholars program
Sherry Stokes
Apr 12, 2022
When Sandra Malaika joined Carnegie Mellon University Africa in 2016, the CMU location was pulsing with excitement along with a heightened sense of purpose. CMU-Africa had just partnered with the Mastercard Foundation, and an ambitious goal was set—educate 125 brilliant young Africans.
For six years, Malaika has managed the Mastercard Foundation Scholars Program. In the beginning, five students were enrolled in the program. Today, CMU-Africa reached that early goal of 125 students who represent 22 nationalities.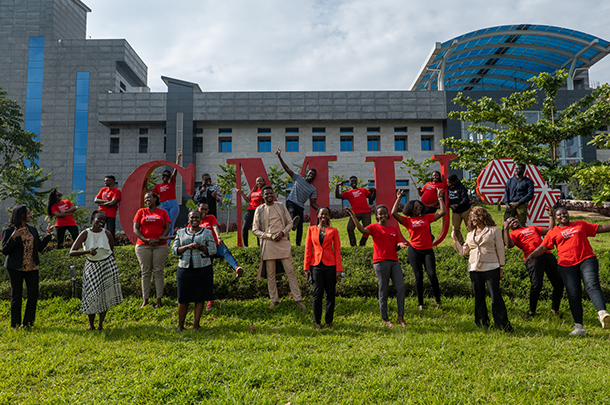 Q: How has the Mastercard Scholars Program enriched the academic culture?
Malaika: Sometimes we hear people talking about the African culture, but Africa is made up of many different countries. When you look at the countries represented at CMU-Africa, you see that we are a real melting pot. Students engage and work in teams with peers from different countries. This exposes them to people with different personalities, leadership styles, and work ethics. This helps us make sure that we are nurturing leaders who can engage in diverse groups.
Beyond the classroom, Scholars engage in community services projects. Giving back to the community is essential to the Mastercard Foundation because they believe that to whom much is given, much is expected. Scholars are required to give back to their communities. This might mean working on projects back in their home countries or CMU. It depends, but we've seen engagement increasing in our community, and it's becoming more of a culture. So, it's now normal to go out and work on community outreach projects at CMU-Africa. It's normal to give back. There has been a clear shift that resulted in an institutional culture change.
Q: Does the Mastercard Foundation support help students who are not enrolled in the Scholars Program?
Malaika: Yes. We have enhanced mental health support and comprehensive student services and career services for the entire student population.
Q: You have been working with the Mastercard Scholars for a long time. Looking forward, how do you see your job evolving?
Malaika: We have a lot of different things to achieve, right? There is more to do than just ensuring that the Scholars learn and get an enriched experience during their time at CMU-Africa. We will have more diversity, so we will need to extend more individualized support to our students. It would be wonderful to have all the 54 African countries represented at our campus in the coming years! And we must make sure that we are extending some of the support provided to the Scholars to the rest of the student population. I see a lot of opportunities for creating cultural changes at CMU-Africa that will benefit all our students.