Career ready
Practicum program gives MSIT students the opportunity to tackle industry challenges
Hannah Diorio-Toth
Jul 6, 2022
Real-world problem solving is at the heart of a Carnegie Mellon University education. At CMU-Africa, hands-on learning inside and outside the classroom prepares students to become leaders in their fields and excel in the workforce. The master's practicum, a required component of the Master of Science in Information Technology (MSIT) degree program, is a valuable opportunity for students to work directly with companies on complex industry problems.
"Students really get the chance to build their professional skills — communicating with clients, negotiating with clients, working in teams, and collaborating. The practicum also gives students the opportunity to showcase their skills to potential employers, and gives potential employers the opportunity to see if CMU-Africa has the kind of students that can meet their company's needs," says George Okeyo, assistant teaching professor at CMU-Africa.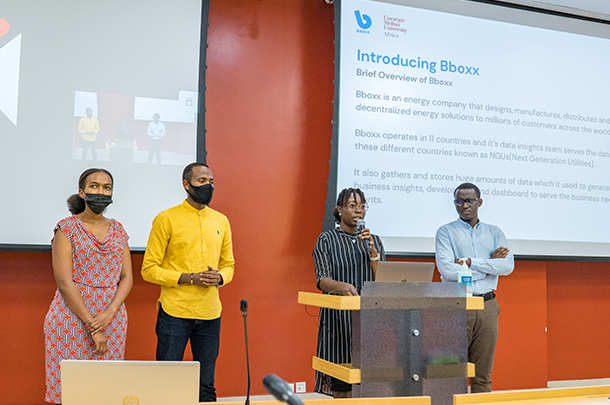 The master's practicum is offered both in the fall and spring semesters, each with new projects for students to tackle as part of a team. Students maintain intellectual property of their work, and sponsors receive a perpetual non-exclusive license to the solutions created.
Companies from all over the world, and especially in Africa, act as practicum sponsors after being selected through an application process that includes expressions of interest from students. There is no cost to become a sponsor, but companies work closely with the students to guide and manage the project. In addition, CMU-Africa faculty act as advisors to the student teams to provide any additional support needed to complete the project.
"One of the reasons why our partners are excited about the practicum is because of the quality of the student teams. Many times, we have heard feedback about how the students were really responsive, took initiative, and tackled some very tough problems," says Patricia Musiime, career services officer at CMU-Africa.
The most recent practicum had three sponsors: Hiveonline, Internet Society, and BBOX. Students who worked with Hiveonline helped to evaluate and integrate data to help the fintech company in its decision making related to financial inclusion and access to credit for the African farmers it serves. Internet Society, a global non-profit organization, asked students to explore how and where local internet content is hosted in countries like Rwanda, Mauritius, and Kenya. This project has implications on the quality and security of an internet access in these areas. And, students who worked with BBOX identified key performance indicators that could be used within the energy companies' business intelligence system.
Two of the sponsors, Hiveonline and Internet Society, returned as sponsors after being impressed by the work of CMU-Africa students on previous practicum projects. For example, students previously worked with Internet Society on a proof-of-concept project to test internet resiliency, called the Internet Society Resilience Index (IRI). The IRI is currently in the test phase of tracking internet resiliency in Africa.
"The CMU practicum projects are always a win-win for Hiveonline and the CMU students," says Matthew Mims, COO of Hiveonline. "We get to work with some of the best computer science talent in Africa and the students get to experience working in a fast-paced impact startup."
Are you interested in becoming a practicum sponsor? Learn more about the program and contact us at africa-practicum@andrew.cmu.edu.