CMU-Africa's 10th graduation ceremony
May 26, 2023
8:00 a.m. CAT
Kigali Serena Hotel, KN 3 Ave Kigali, Rwanda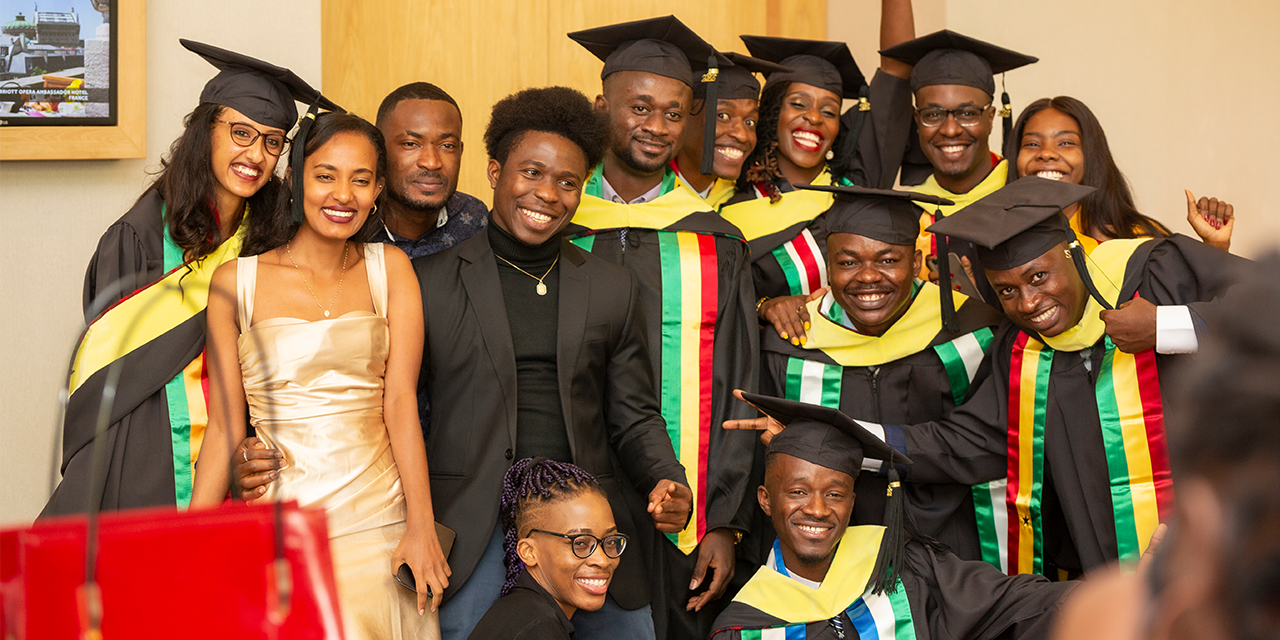 It is our great pleasure to invite you to the Carnegie Mellon University Africa 10th graduation ceremony on Friday, May 26, 2023. This momentous event will serve as an opportunity for the CMU-Africa community, family, and friends to bear witness to and celebrate the academic accomplishments of the graduating Class of 2023. Additionally, it will provide alumni with the chance to welcome new graduates to the Alumni Association.
CMU President Farnam Jahanian will attend the CMU-Africa graduation ceremony and will address the Class of 2023.
The keynote speaker for the ceremony will be Dr. Solomon Assefa, vice president at IBM Research. 
Celebrate with us
CMU-Africa looks forward to lauding the hard work and dedication of our 10th graduate cohort of master's degree candidates.
---
Graduation ceremony details
We extend a warm invitation to graduating students and their guests to participate in the main graduation ceremony on Friday, May 26. This ceremony will feature the conferral of degrees and diploma awards and will include a host of distinguished speakers such as the Rwanda Minister of Education, the university president, keynote speaker, student speaker, and Alumni Association representative.
The ceremony will be held in Kigali, Rwanda, and is expected to last approximately 2 hours.
Resources for graduating students
Congratulations on your upcoming graduation! We are excited and look forward to celebrating with you. As you plan for graduation, refer to this page for information about deadlines, cap, and gown, robing, portraits, processional and more.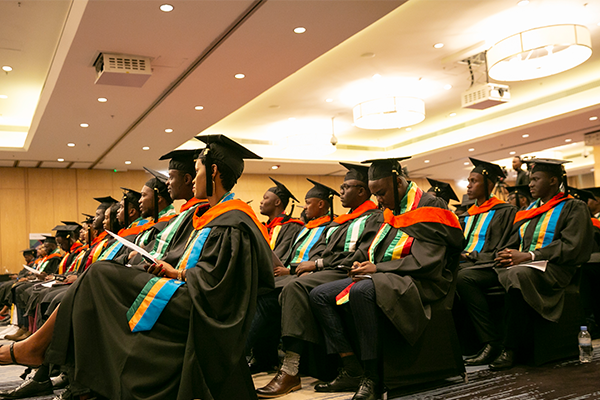 Valedictorian
Each academic year, Carnegie Mellon University selects one outstanding student to deliver a speech at the graduation ceremony, representing the entire graduating class. This honor offers a unique opportunity for the chosen student to address their peers, faculty, staff, families, and other guests with a speech of their own making.
The selection of the valedictorian is carefully made by the Office of Student Affairs, taking into account the graduate's academic excellence, as well as their ability to embody the values and ideals of Carnegie Mellon University.
Graduation portraits
In-person graduation portraits will be taken at the CMU-Africa studio, B305 from May 15 to May 19 between 9 am and 5 pm CAT.
Cap and gown
In order to participate in the graduation ceremony, Carnegie Mellon University mandates that all graduates wear official regalia, including a cap and gown. It is crucial to note that the firm deadline for graduation cap and gown collection is May 19. Please drop by F305 from May 15 to May 19 between 9 am and 5 pm CAT for collection.
Diplomas
Graduating students will receive diplomas at the graduation ceremony. If you are unable to attend the graduation ceremony, your diploma will be mailed to you. If you have questions regarding diploma distribution, please contact Olga Gikundiro Buki.
Upon your graduation, you will start to receive information about upcoming events, available resources, campus news, and more to help you engage with the Alumni Association. To ensure that you receive these messages, please update your contact information. As your city, job, and contact information change over time, please keep your information current so that we can stay connected.
Resources for families and guests
We look forward to hosting family and friends at the 10th CMU-Africa graduation.

Accommodations
It is highly recommended that graduating students and guests who seek lodging in Kigali for graduation make their arrangements well in advance. This is especially important as the Basketball Africa League 2023 will also be taking place during the same time of year, making it increasingly difficult to secure accommodations as the event draws nearer. We suggest reserving guest lodging as early as possible, and ideally opting for cancellable reservations when doing so.
Fortunately, the selected graduation ceremony venue is easily accessible, with a range of public transportation options available, including taxicabs and motorbike services.
Suggested nearby hotels:
Information for international guests
Please visit the website of the Rwanda Directorate General of Immigration and Emigration for information on travel and visa requirements.
Graduation ceremony live streaming
For graduating students and guests who are unable to travel, the graduation ceremony will be live-streamed. Details on the availability of streaming of the Graduation Ceremony will be available on May 22.
For more information on this event, please contact Marie-Ange Rukundo:
Upcoming Events
May 31 2023

3:00 PM - 4:00 PM ET