Students shine at NM-AIST African Grand Challenge
Staff writer
Jan 27, 2018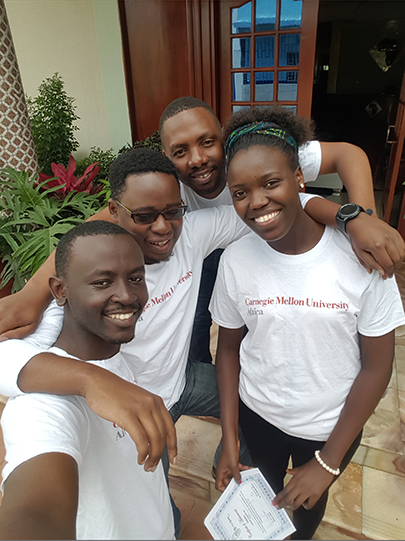 Carnegie Mellon University Africa (CMU-Africa) students won first prize ($5,000 USD), at the Nelson Mandela African Institute of Science and Technology's (NM-AIST) Africa Grand Challenge competition in Arusha, Tanzania.
This year's edition had two themes, one being how the combination of drone and Internet of Things (IoT) technologies can be used in improving healthcare systems. The second theme was how the aforementioned technologies could also be used in animal sciences and wildlife management.  The competition attracted students at both the master's and Ph.D. level from different centers of excellence across the African continent. CMU-Africa was represented by Simeone Uwizeye, Aggrey Muhebwa, Samuel Ishimwe and Djamila Mathu Khamisi, all students of the Master of Science in Electrical and Computer Engineering (MSECE) program.
The team developed a system that would alert a farmer at the onset of the oestrus cycle, by detecting sudden change in the animal's behavior. This is done with the help of a Smart Tag on the cow's ear that senses change in movement and temperature to help determine whether the animal is on heat. Drones can be used for the delivery of semen in order to carry out artificial insemination at the optimal time.
In addition to winning first prize, the CMU-Africa team has been offered a month-long internship with Merck Pharmaceuticals, at its research campus in Prague, Czech Republic.