Empowering Africa's young digital disruptors
Staff writer
May 23, 2018
At the Transform Africa Summit's fourth edition held from May 7th to 10th in Kigali Rwanda, participants – who included African leaders, businesses, international organizations and global investors – gathered under the theme "Accelerating Africa's Single Digital Market" to discuss ways of creating sustainability on the African continent through technology and innovative practices.
In addition to being the lead partner of the Transform Africa Summit, Carnegie Mellon University Africa was an active participant during the Summit with faculty and students alike contributing to game changing conversations on various panels.
CMU-Africa alumni and students organized and participated in an all-youth panel, which featured recipients of the Smart Africa Scholarship Fund. The aim of the panel was to highlight some of the work they were engaged in and to encourage the youth to get involved in innovation.  The panelists included; alumni Andrew Kinai, Joan Nkiriki and Davy Uwizera, alongside current graduating students Yvonne Wambui , Victor Akinwande and moderated by Viola Nuwaha.
Energy access in Africa is not just about how we increase access, but how we make it an economy. One that is profitable and sustainable.

Joan Nkiriki, PhD candidate, Carnegie Mellon University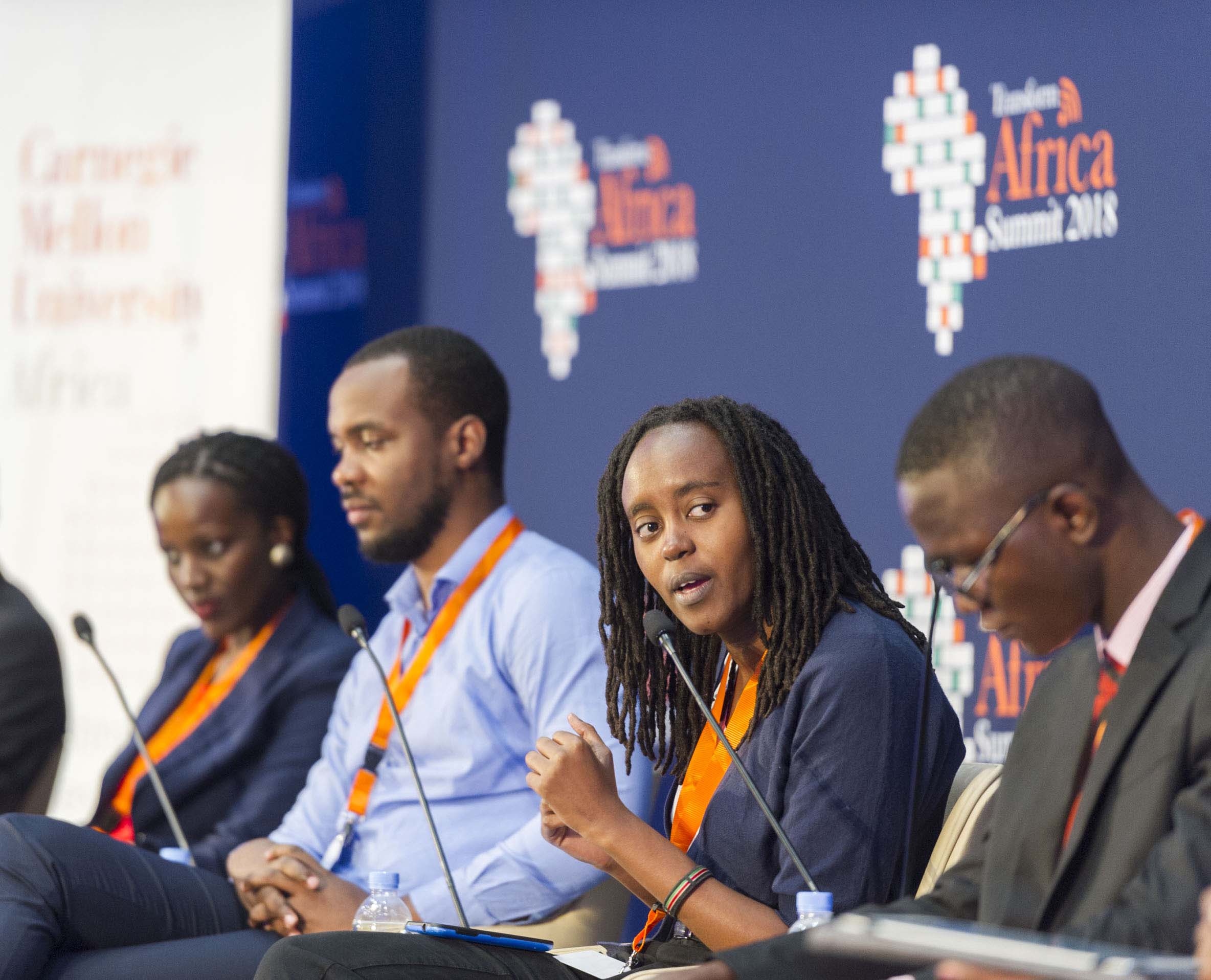 Joan Nkiriki, a PhD candidate at CMU reinforced the importance of research in order to create solutions that will have long term sustainability in the African market and benefit the African people, "Energy access in Africa is not just about how we increase access, but how we make it an economy. One that is profitable and sustainable."
According to Yvonne, Wambui, a graduating student and the co-founder of Hepta Analytics: "The digital revolution is disrupting data collection in Africa, providing key public services and influencing policy. We are seeing a shake-up in governance through digital innovation."
During the panel, some engaging conversations were had around machine learning and cryptocurrency, allowing panelists to share some of their expertise.
Machine learning technology is on the rise, and graduating student Victor Akinwande, believes as the data economy grows in importance it is paramount that Africa takes the lead in applied machine learning. He talked about his project while interning at IBM Research last year which applied machine learning principles.
Andrew Kinai, a software engineer at IBM Research Africa talked about a micro-finance solution that he recently helped develop with the use of blockchain. He however advised "there is no one size fits all solution for Africa. Blockchain cannot be applied to everything. We need to deliberately figure out the correct use cases to use applied blockchain."
CMU-Africa has played a very significant role in the advancement of these young disruptors and in the formation of their ideas and research. Davy Uwizera founded a startup that has developed an artificial intelligence solution for public transportation. According to Davy, "the fact that CMU has over 100 graduates most of whom are working on the continent is a great thing. There is potential we just have to see how to explore these skills that are provided by institutions such as CMU-Africa."
Viola Nuwaha, moderator of the panel and MSIT student concluded the panel with a twist to the age old saying of inviting Africa to the table. She instead suggested Africa create our own table and ask the rest of the world to join us for a meal.