Reframing rejection as redirection
Alumni profile: Beatrice Birir (MSIT '20)
Hannah Diorio-Toth
May 13, 2022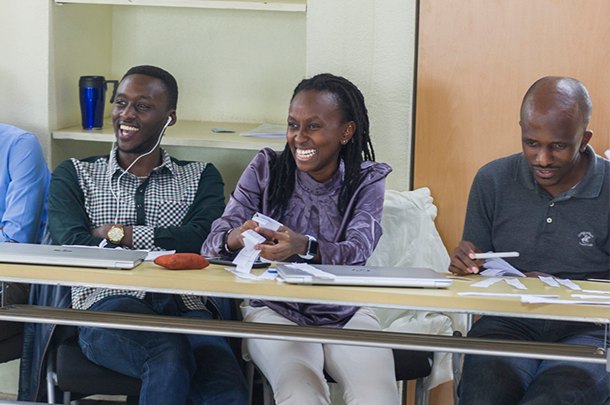 When Beatrice Birir began the Master of Science in Information Technology program at CMU-Africa, she was ready for the academic challenges that lay ahead. What she didn't expect was the personal growth she would find when her career path didn't go in the direction that she had originally planned.
In one of the first courses Birir took at CMU-Africa, her professor put a problem set on the board with a glaringly obvious mistake in it. Birir and the other students uneasily continued to go along with the professor's lesson and didn't point out the error, even after the professor asked the class to review the problem. It turns out that the error was intentional, Birir's first lesson in critical thinking and confidence, and her biggest takeaway from CMU-Africa.
"I learned that, as a problem-solver, it is important to ask questions, share new ideas, and encourage discussion," says Birir.
Birir applied those skills in the classroom and also outside of her coursework, where she participated in the Student Guild, Women in Tech, Toastmasters International, and Project Rwanda, a student group that worked to enhance ties between the global CMU locations. She also conducted research with the Kigali Collaborative Research Centre, where she explored the use of drones with local Rwandan farmers to better understand how this technology may be perceived and adopted.
Birir came to CMU-Africa with a love for mathematics and a degree in informatics from Strathmore University in Nairobi, Kenya. Her intention was to complete the MSIT program and continue on to get her Ph.D. to fulfill her dream of becoming a professor.
However, after a couple of rejections from Ph.D. programs, Birir was discouraged. She decided to instead look for corporate positions as she awaited the next application cycle. She felt that these positions would allow her to apply her problem-solving skills and expertise in information technology. She was offered an apprenticeship at Roche, a pharmaceutical company based in Switzerland, and her outlook on her career path completely changed. It was in this role that she unexpectedly discovered that she wanted to use her data skills at a company where she could have an impact on interesting products and work with a global, multi-disciplinary team.
"Sometimes rejection is a redirection. All the rejections I've gotten have ended up bringing me to a new, unexpected opportunity.

Beatrice Birir (MSIT '20)
"When I got the rejections, I was sad. And now, looking back, I'm like, 'Yeah, that was a good thing. It redirected me to where I am now. I'm doing all the things I wanted to do. I'm incorporating all the lessons I've learned all through my life,'" says Birir.
Now, Birir works at Microsoft as a program manager on an internal product. In her role, she finds herself as an important interface between the engineering team and the client — an area where her technical and communication skills thrive. With a strong understanding of the technical side of the business, she is able to effectively work with both groups to ensure success on her projects. 
"I think if I was to tell something to other students, it would be that sometimes rejection is a redirection. Because for me, all my life, all the rejections I've gotten have ended up bringing me to a new, unexpected opportunity."