Preparing students for a master's degree
2022 bridge program graduates 33 students
Monica Sumbi
Aug 11, 2022
In its second year running, CMU-Africa's undergraduate bridge program graduated 33 students at a ceremony that convened CMU-Africa leadership, representatives from the two partner universities: University of Rwanda (UR) and Adventist University of Central Africa (AUCA), and the program graduates. The event included speeches, an award ceremony, and a reception to celebrate the students' accomplishments. The two-hour ceremony was the official wrap-up of the five-week academic program aimed to equip bachelor's students in Rwanda to be competitive applicants to graduate schools anywhere in the world.
As part of his speech, CMU-Africa's Director of Knowledge Creation and Education Network Aamir Suleman encouraged the graduates to consider CMU-Africa as an option to further their engineering education. He reiterated CMU-Africa's commitment to the bridge program as an investment for future leaders of the continent.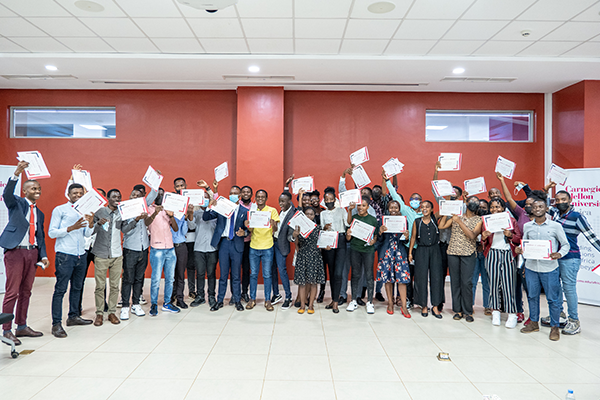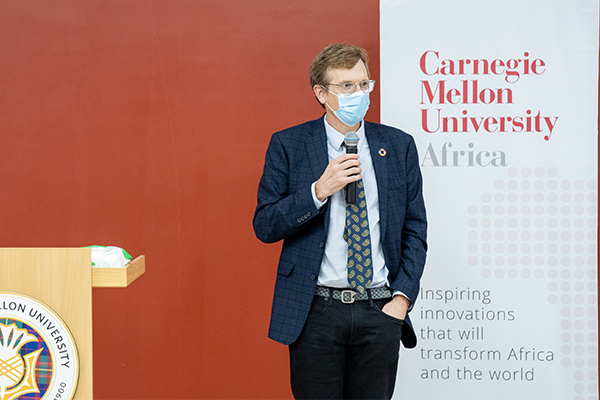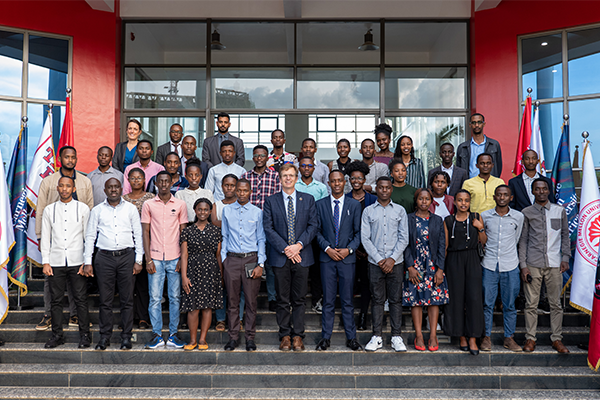 Speaking on behalf of the principal of UR, Director of Teaching and Learning Enhancement Jasper Kwizera reassured CMU-Africa of continued collaboration from the University of Rwanda. "The bridge program is an opportunity to link good lessons and gaps and learn from each other," said Kwizera. His congratulatory message advised the graduates to join communities that foster and share knowledge and play a role in the digital transformation of Africa.
The graduates were further congratulated by the Adventist University of Central Africa Vice Chancellor Kelvin Onongha. "You have been set on a trajectory path where you will be game changers. This privilege will enrich you and if you are hungry enough, open your eyes, then the sky is the limit. Be an eagle and be a world changer," he said.
The graduation ceremony concluded with remarks from CMU-Africa Director Allen Robinson who acknowledged the University of Rwanda and Adventist University of Central Africa for their partnership.