Five unique cybersecurity challenges in Africa
Hannah Diorio-Toth
Aug 23, 2023
The CyLab-Africa initiative
, a collaboration between Carnegie Mellon University's
CyLab Security and Privacy Institute
and Carnegie Mellon University Africa, aims to improve the cybersecurity of financial systems in Africa and other emerging economies. 
Assane Gueye
, associate teaching professor and co-director of CyLab-Africa, has identified five cybersecurity challenges that Africa faces on the path to a digital future. Cybersecurity is a global issue, but the challenges in Africa are unique as the continent moves into the digital world.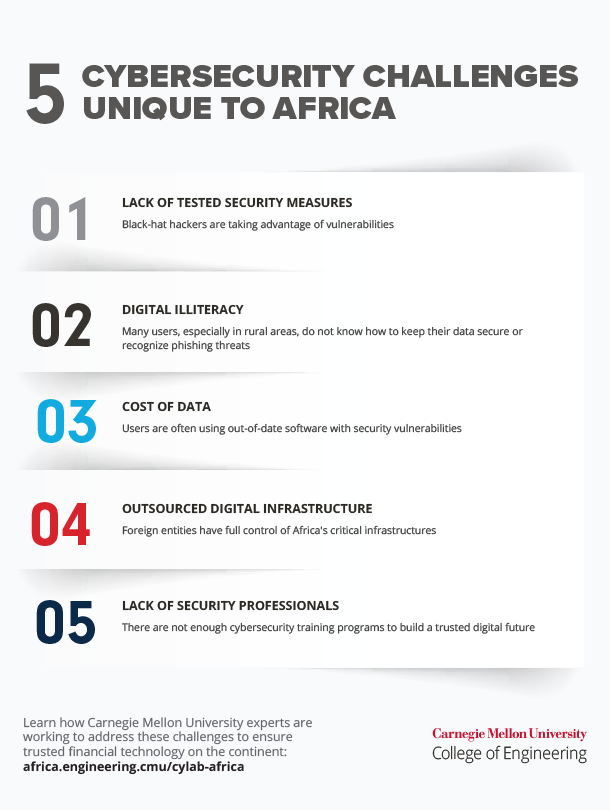 Lack of tested security measures: The majority of African-based fintech companies do not have the cybersecurity expertise or resources to implement security checks in their technology before launching the programs for public use. Because of this, black-hat hackers are taking advantage of vulnerabilities in the technology and putting the public's financial information at risk.
Digital illiteracy: Although digital technologies including mobile money are quickly growing in popularity on the continent, many people (especially those in rural areas) are not digitally literate. These people do not know how to keep their data secure or recognize phishing threats.
Cost of data: One of the most important ways for users to keep their data safe is to regularly update applications on their digital devices. These updates often include patches or bug fixes to improve the security of the program. However, in many African countries, the cost of using data on digital devices is high, so users disable automatic updates to save money. This means that users are often using out-of-date software with security vulnerabilities.
Outsourced digital infrastructure: Most African governments outsource the majority of their technology infrastructure and operations. This puts them at the mercy of foreign entities that have full control of their critical infrastructures.
Lack of security professionals: Although there is a shortage of cybersecurity professionals across most of the world, the problem is dire in Africa. The continent has the fastest-growing workforce in the world, but there are not enough cybersecurity training programs to develop the workforce necessary to build a trusted digital future.
There is a huge amount of projected growth in the African economy over the next five years. In order to drive financial inclusion alongside that growth, big improvements need to be made to the security and resilience of the continent's financial technologies and infrastructure.