Pan-African network celebrates collaboration at second annual conference
Hannah Diorio-Toth
Oct 2, 2023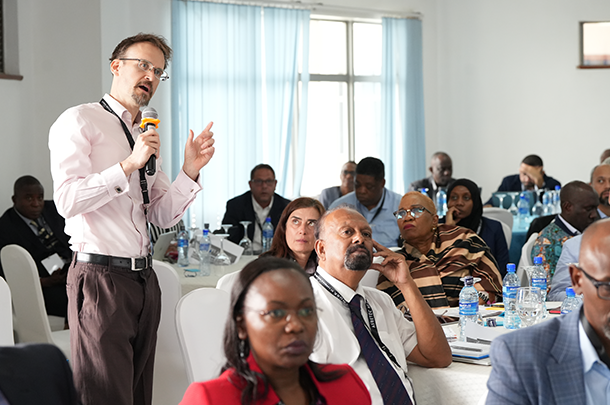 Higher education leaders from across the continent recently convened at the University of Nairobi (UoN) for the 2023 Afretec Conference. At the event, attendees reflected on the network's accomplishments and planned for the year ahead. The African Engineering and Technology Network (Afretec) partners centered discussion around the pillars of entrepreneurship, inclusion and impact, teaching and learning, and knowledge creation.
"As a network, we are proud of the progress that Afretec has made in our effort to build a strong knowledge creation and educational infrastructure on the continent," says Conrad Tucker, interim director of Carnegie Mellon University Africa, the network's lead institution. "It was important for all of the partner institutions to come together at this year's conference to talk about how we can continue to increase our impact."
During the conference's opening ceremony, the Vice Chancellor of the University of Nairobi Stephen Kiama, addressed the integral role that collaboration plays in the network." Afretec places a strong emphasis on African-led research for local solutions, acknowledging the power of collaboration as the most formidable weapon in harnessing our collective knowledge, resources, and unique opportunities. The network acts as a bridge, connecting brilliant minds and abundant talents within Africa with innovative enterprises. It recognizes that the numerous challenges faced by the continent also present corresponding opportunities, which can only be seized through the right skills and expertise," Kiama remarked.
Afretec's pillar of knowledge creation recently announced three research clusters of health, energy and sustainability, and environment. The network's teaching and learning pillar launched a series of studies on teaching resources and best practices in Africa. Under the entrepreneurship pillar, programs were initiated to build the pipeline of entrepreneurship at partner universities.
This is the second annual conference held for network members. The inaugural conference and network launch was held in 2022 at Carnegie Mellon University Africa, located in Kigali, Rwanda.
Watch a highlight video of the 2023 Afretec Conference