CMU alumnus donates cryptocurrency to CMU-Africa
Donor spotlight: Edwin Kairu (HNZ '08)
Hope Reveche
Mar 1, 2023
Every year, the Carnegie Mellon University community comes together for Giving CMU Day to show their philanthropic support by participating in social media challenges and on-campus events. This past year, Edwin Kairu, a 2008 Heinz College alumnus and information security instructor at CMU-Africa, made his mark by generously making a gift of cryptocurrency—a new venture for CMU.
Kairu has a decade-long background in the cybersecurity space, working at companies such as Mandiant, Bank of New York Mellon, and Deloitte. He was first introduced to cryptocurrency when he and his colleague noticed suspicious transactions involving something called Bitcoin. After doing some research, he decided to start investing. "Because of my background in information security and cybersecurity, I could understand the technical aspects of cryptocurrencies, and that's really what sold me on it," he says. "And that's why when CMU opened up donations in cryptocurrency in 2021, I was like, 'Okay, that's something I have that I can give.'"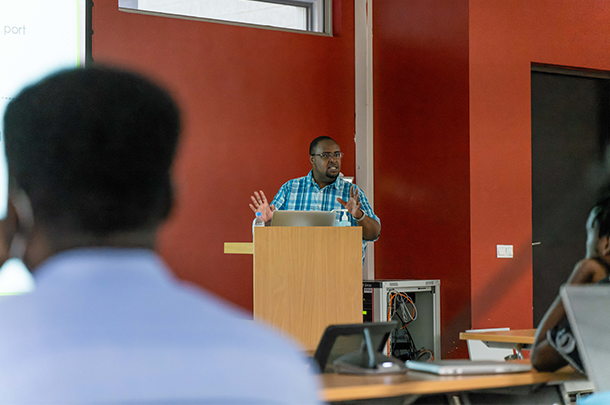 Kairu's motivation for donating stems from his own experience as an international student at CMU's Heinz College, coming from Kenya on a 50% scholarship. "One of my personal goals was to pay it forward. I set my goal of somehow, somewhere, I'm going to pay that back over time so that it can be used for someone else," Kairu says.
His gift specifically went towards the Innovators Forward Fellowship Fund (IFFF) which helps to cover tuition for CMU-Africa students, 100% of whom receive some sort of financial assistance. "The tuition at CMU-Africa is the same as Pittsburgh, but since it's in a part of the world where the cost of living is not the same, it is really out of reach for most people there without financial assistance," he explains.
One of my personal goals was to pay it forward.

Edwin Kairu, Information Security Instructor, CMU-Africa
When one of his former classmates from Heinz College reached out to him in 2018 about teaching cybersecurity classes at CMU-Africa, Kairu leaped at the opportunity to give back in this new way. He hopes his students benefit not only from his donations but also from his teaching.
Kairu sees new and interesting employment opportunities for his students, which were not available when he was starting his own career. Remote work has allowed companies to feel more comfortable hiring internationally which allows some of his students to get jobs from places in the U.S. or Europe without having to leave the continent. "There were not a lot of opportunities in my home country, so I had to physically emigrate to the U.S. But my students can take advantage of those same opportunities without leaving their home country. My hope is that this allows a lot of them to pursue what they want to do in tech without having to leave," Kairu reflects.